Espy - The Picture Address Book that Works!
Quick Links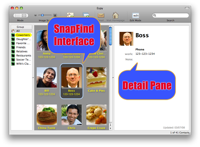 Espy is your address book with
enhanced picture
capabilities. Use the built-in search to
quickly find
the information you need from your network of family, friends and clients, or
browse
through your contacts' pictures in a useful and attractive iPhoto-like interface.
Espy is intuitive and easy-to-use, featuring a clean, streamlined, informative look and
drag and drop
photo assignment.

Version 1.0
Universal Binary (4.8 MB)
For OS X 10.4 or 10.5

Free Download - Purchase
30-day Demo
!-- END download link -->
Find the information you need
Espy shows you important information like the name, phone and email address clearly within its main picture view. Need more information? It is always handy in the details-pane on the right hand side.


Remember the (not so) stranger

Espy helps you find information quickly by browsing through your contacts' photos using our unique SnapFind interface.

Have you ever run into someone on the street, but forgot his name? This is because visual memory is often longer lasting than textual memory. The same thing happens when you are at a party, banquet, or worst, at your own wedding!

With Espy, you can find your contacts' name easily as long as you recognize their face. Be prepared, get Espy now and avoid the embarrassment.
Subscribe to get latest news:

Share easily
Espy is compatible with the Address Book shipped with every copy of Mac OS X, and will work with all applications (for example: Mail and iCal) that use such information (see Sample Uses for more information).

You can also share your contacts with family and friends using standard VCards.
Act now!
Do not hesitate! Try Espy for FREE for 30 days or order now from our secure online store.


---
&copy 2008 GoGoalSoft Limited. All Rights Reserved. Sitemap